PHD, RN, MSN, MPH, PNP
Dr. Brandon N. Respress earned both her doctorate and Bachelor of Science (BSN) degrees in Nursing, at the Frances Payne Bolton School of Nursing (FPB) at Case Western Reserve University, in Cleveland, OH. During her doctoral education, she also completed a Post-Master's certification program for Psychiatric Mental Health Nurse Practitioner/Clinical Nurse Specialist. Prior to returning to Case for her doctoral education, Dr. Respress earned a dual Master's degrees (MSN) with specialty of Pediatric Nurse Practitioner and a Master of Public Health (MPH) with a concentration in Health Services Management and Policy.
While working with an economically depressed and predominately African American school district in Northeastern Ohio, Dr. Respress noted conflicting information about the predictors, prevalence, and outcomes of adolescent risk behaviors in the Youth Risk Behavior Survey conducted within the same district. The impetus for her interest in the social determinants of health began with an attempt to find an explanation for the discrepancy between reports of risk behaviors and adverse health effects associated with these phenomena, among African American adolescents and adults. In an attempt to understand this paradox, it seemed that racism and other forms of racial discrimination, may largely be responsible for the adverse substance use, and mental and physical health, which further impacts one's social and economic outcomes.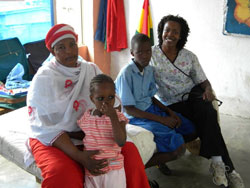 Her doctoral research, social determinants of depressive symptoms, sexual risk, substance use, and suicide risk behaviors in adolescents, was an observational study designed to explore which combination of socio-environmental factors (e.g., mother's educational attainment and perceived racism) predicted adolescent health risk behaviors (e.g., substance use), and examine if these factors varied across racial and ethnic groups. She explored these determinants using cross-sectional analysis of the National Longitudinal Survey of Adolescent Health, Wave II public use data. Quantitative descriptive methodologies such as correlation and multivariate regression analyses were employed as the primary modes of analysis. Results suggested that there were differences in which combination of socio-environmental factors predicted adolescent health risk behaviors; and those combinations also differed across racial groups. For example, poverty, mother's educational attainment, and low GPA were indicators for suicide attempts in Black adolescents, whereas, lower GPA and higher perceived racism scores predicted suicidal ideation in Whites.
Following the completion of her doctoral studies, she accepted the Health Promotion/Risk Reduction Interventions with Vulnerable Populations Postdoctoral Fellowship, an NIH/NINR funded T-32, at the University of Michigan School of Nursing. This interdisciplinary fellowship is a two-year post-doctoral opportunity, jointly appointed with the Emerging Scholars Interdisciplinary Network (ESIN) and Program of Research on Black Americans (PRBA). The combined fellowships emphasize competencies and principles of community-based participatory research (CBPR), race, culture, research design, and advanced statistical methodologies.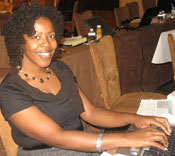 As a research fellow at the University of Michigan, Dr. Respress is committed to disseminating her work in refereed professional and interdisciplinary journals that address research, policy, and practice issues. Two papers entitled, "Perceived Racism as a Social Determinant of Depressive Symptoms" and "Social Determinants of Adolescent Risk Behaviors" are currently under review.
Dr. Respress is a member of the National Association of Pediatric Nurse Practitioners, a member of the Ohio Association of Advanced Practice Nurses, Ohio Nurses Association, the Greater Cleveland Nurses Association, American Psychiatric Nurses Association, National Black Nurses Association, and Sigma Theta Tau International. She is also a council member on the National Advisory Council for Nurse Education and Practice (2007-2011).