Through sustained grants from the Substance Abuse and Mental Health Services Administration (SAMHSA) to national behavioral health professional organizations, more than 1500 MFP fellows have received financial assistance and other supports that have enabled them to complete doctoral degrees, engage in post-doctoral behavioral health care research and study, secure career referrals and placement in clinical, academic, or program positions, serve community needs, and rise to positions of leadership and prominence within their fields.
Not only has the need for more minority representation among behavioral health service providers continued over the 40 year history of the MFP program, it is now becoming even more critical as the nation implements the Affordable Health Care Act of 2010 ("Healthcare Reform") and the Mental Health Parity Act of 2008. Between the two laws, millions of previously uninsured and non-served minority individuals and families, many of whom live in under-served urban and rural communities, will become eligible for mental health and substance abuse disorder assistance on a par with other health services.
Many new behavioral health professionals across all disciplines will be needed to meet this enormous service challenge, and a significant portion of new service providers will be called upon to offer "culturally competent" services. Current and former MFP fellows, now among faculties and educational leadership positions in major behavioral health training institutions, are well situated to respond quickly to the heightened work-force demands ahead.
In addition to tuition assistance, ANA MFP Fellows receive educational enhancements to help defray the cost to attend and present their research at national association conferences, participate in special summer training institutes, and contribute to SAMHSA-sponsored MFP meetings and conferences.
Based on Fellow retention issues experienced in the early years of the MFP program, such as difficulty with graduate program studies and skills, especially dissertation writing and presentation, and exposure to career options and requisite responsibilities, the ANA MFP has created a "Virtual University" comprised of the following knowledge and skill building activities.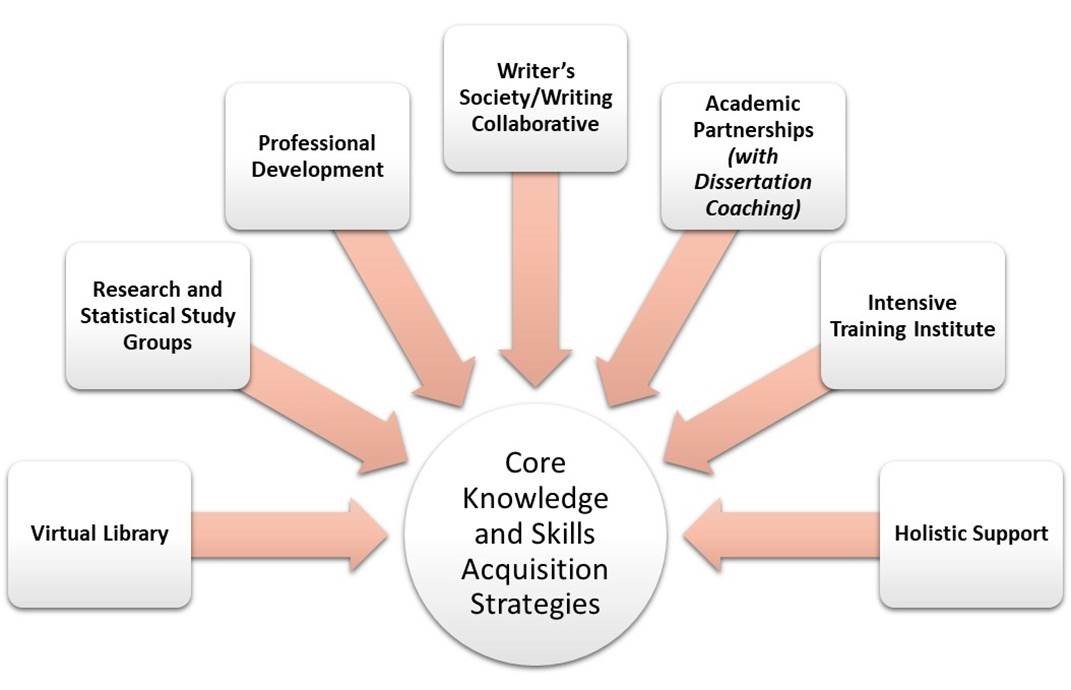 MFP Academy Core Knowledge and Skills Acquisition Strategies
Virtual Library
Research and Statistical Study Groups
Professional Development
Writer's Society / Writing Collaborative
Academic Partnerships (with Dissertation Coaching)
Intensive Training Institute
Holistic Support
The ANA MFP "Virtual University" helps Fellows:
Strengthen Writing Skills:The "Virtual University" offers MFP awardees supplementary assistance on how to organize and write doctoral dissertations, research and clinical funding proposals, professional reports, journal articles and studies. Through a variety of strategies and activities, including one-on-one coaching, research and statistics study groups, individualized tutorials, and an MFP Writers Society, Fellows are offered support that augments and reinforces assistance provided by mentors and advisors who assists them in writing tasks associated with their chosen career paths.
Chose and Enter Careers: ANAMFP Fellows in pre-doctoral graduate programs are at various stages of their nursing careers and, as such, MFP career counseling focuses on helping each Fellow identify and pursue specific knowledge and skills, job opportunities after graduation, and networking with individuals who could enhance their chosen career path. For Fellows who have not committed to a specific career path, the "Virtual University" links them with nurses and other behavioral health experts through a series of small seminars, intensive summer institutes, one-on-one site visits, and attendance at specific national and international meetings and conferences.
Learn and Practice Networking: The ANA MFP has a long and strong tradition of helping Fellows learn and utilize the power of networking and peer support. As indicated, the network of ANA MFP alumni has proven a unique and valuable source of guidance and assistance to both Fellows pursuing their doctoral degrees and those who have completed the program and entered or resumed careers. ANA MFP alumni help minority nurses with doctorates find jobs, achieve leadership positions, and participate in critical field and knowledge-advancing research and clinical program development.
Form Cross-Cultural Bonds: The ANA MFP makes a special effort to expand Fellows' exposure to, and bonding with, minority Fellows from other racial, cultural, or ethnic backgrounds. Fellows are assigned cross-cultural roommates at meetings and conferences and encouraged to participate in cross-cultural team building activities in order to "incubate" new awareness and friendships. The MFP network of past, current and future MFP Fellows is truly a "universal" network and not a set of sub-networks organized and maintained along racial or ethnic lines. For example, publishable papers are being developed as a result of the incubation process that occurred among Asian American, Hispanic, American Indian, and African American Fellows that focus on the life courses of depression among children and adolescents of many backgrounds.
The 21st century ANA MFP has made considerable use of the internet to expand and enrich its support of Fellows and program graduates. The program maintains an interactive web site that enables much of the one-to-one mentoring of Fellows to be conducted on-line. More often than not, mentors do not live in the same communities, or work in the same institutions, as the Fellows they are mentoring.
Similarly, the web serves as a portal for multi-person "conversations," such as peer review sessions of dissertation drafts or team statistical analysis assistance. The web site links Fellows to a Virtual Library of ANA-organized and maintained professional reference materials.