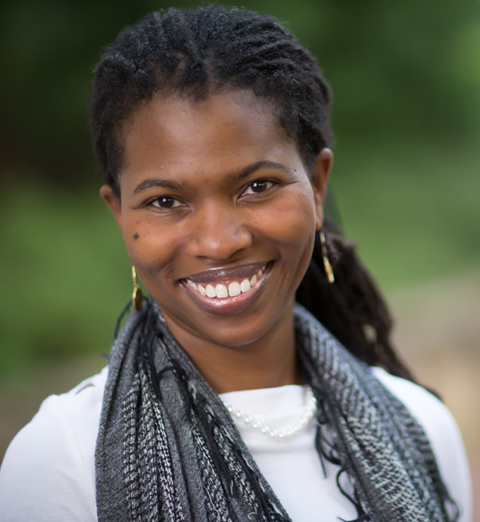 There are more than 300 MFP alumni throughout the nation that provide culturally competent and linguistically appropriate direct care. The MFP alumni also educate, conduct research, provide healthcare services and develop health policy in urban and rural clinical settings, community and outreach programs, and academia with the intent of eliminating mental health and substance use disparities and enhancing well-being among all people, including ethnic minority populations. Each month the MFP will showcase one alumnus' amazing nursing journey and how their MFP experience helped them pursue their dream.
Featured Alumnus of the Minority Fellowship Program-Traditional
Dr. Cheryl Woods Giscombé, PhD, PMHNP-BC
Assistant Professor
School of Nursing at The University of North Carolina at Chapel Hill
Dr. Woods Giscombé is dually trained in psychology and psychiatric mental health nursing. Dr. Woods Giscombé is currently a principal investigator on an NIH-funded research study on stress and diabetes prevention among African American adults with pre-diabetes. She also maintains a clinical practice as a psychotherapist/ psychiatric nurse practitioner at CAARE, Inc. in Durham, NC.
Dr. Woods Giscombé responds to questions regarding her research on psychological impacts unique to African American women and engagement with the Minority Fellows Program.
Q: What are some of the social/historical factors unique to African American women that impact their psychological and physical health status?
Wood Giscombé: African American women have unique social, historical, cultural, and familial experiences that impact their psychological and physical health status.  African American women experience life uniquely due to the intersection of their race/ethnicity, gender, and socioeconomic status in the United States. They also play a significant role in their families, which can be a double-edged sword. They are honored and applauded as caregivers who self-sacrifice for the well-being of their families and their communities. However, they often deprioritize their own health and well-being as they work to support others. My research on Superwoman Schema and Network Stress describes these phenomena in African American women. Network stress is the stress that African American women experience vicariously through their loved ones, and Superwoman Schema includes five major characteristics:  perceived obligation to project an image of strength, perceived obligation to suppress emotions, resistance of dependence on others or vulnerability, motivation to succeed despite limited resources, and prioritization of caregiving over self-care.  The race and gender related stressors that are influenced by African American women's social and cultural context may contribute to sedentary behavior, use of food as a coping strategy, increased physiological stress mechanisms (high blood pressure, high cortisol level, increased glucose), which can then lead to increased risk for obesity and cardiometabolic conditions. This can also lead to depression and anxiety, as well as delayed seeking of help from healthcare providers.
Q: How significant are these factors when considering mental health treatment options for African American women?
Wood Giscombé: These factors are very significant, because it emphasizes the need for mental health professionals who can provide compassionate, culturally-relevant care for African American women that takes into consideration their values and contextual (social/historical/familial) that contribute to their mental health status and that will influence their emotional recovery. This speaks to the need of training all mental health providers to provide culturally-sensitive care and for increasing the pipeline of underrepresented youth who pursue careers in the mental health professions. Providers also will need to consider issues related to stigma and acceptance of mental health diagnoses and mental health care in the African American community. African American women may delay seeking help, because it contradicts the image of strength that many often feel that they need to uphold.
Q: Can you describe the integrative approaches that you are researching that have the potential to reduce mental health disparities among African Americans? Are these approaches being implemented—and what are the results so far? What is the process for taking this to scale? What are some of the challenges in this regard?
Wood Giscombé: I am examining the potential benefits of integrating mindfulness-based approaches to mental and physical health interventions for African American women to enable them to increase self-compassion and develop stress management techniques. I have implemented these approaches in my own clinical practice with African American women and in my research with African American women. African American women embrace these approaches, and a growing number of health providers are beginning to incorporate integrative approaches in their work with African American women.
Q. Are there other factors that need to be considered, and what more needs to be done to overcome them so that mental health related disparities are minimized for African Americans?
Wood Giscombé: Access and costs are big factors. Traditionally, mindfulness-based approaches are expensive and not typically covered by health care benefits. There continues to be a shortage of mental health providers who African Americans feel will understand their cultural experiences and perspectives. It is challenging for mental health professionals to establish professional practices, or they may perceive that it is a challenge. Perceived challenges may include concerns about being able to sustain a successful business that provides necessary services to underrepresented populations, such as African Americans, and African American women in particular. However, there are resources available to help support these types of businesses so such services can be available. Programs that encourage African Americans and other underrepresented groups to pursue mental health careers and provide culturally-relevant services continue to be needed.
Q. Can you tell us what motivated you to pursue this area of research? How has the Minority Fellowship Program contributed to your work?
Wood Giscombé: I have always had a passion for mental health and the resolution of health disparities. I am also deeply passionate about integrative healthcare and culturally-relevant interventions. The MFP was an amazing and invaluable opportunity for me. My major research on Superwoman Schema was completed with funding from the MFP. The community of scholars, research training, and training on culturally-relevant mental health practices fueled my passion and ability to be successful in my research, practice, and work as an educator and administrator. I established a mental health program in an existing nurse-managed community health agency several years ago. Through that program, I provided mental health care to African American men and women, including individuals who were in recovery from substance use disorders. Although I am not currently engaged in work at that agency, my goal is to develop an innovative, interprofessional, integrative mental health practice/agency (with psychiatric nursing, clinical social work, and integrative health care and mindfulness) to serve African American women, men and other underserved populations to help improve mental health outcomes and quality of life.