Carousel Slides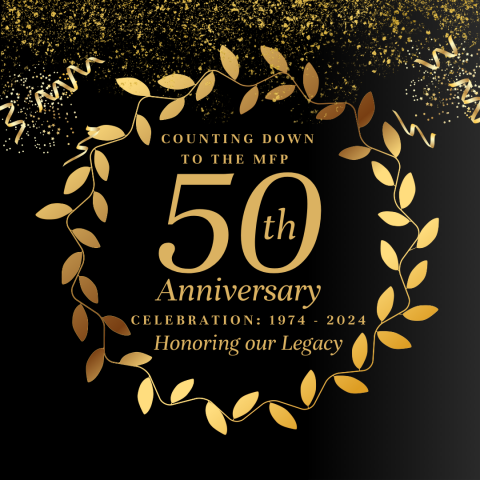 Counting Down to the MFP 50th Anniversary Celebration: 1974 - 2024. Honoring our Legacy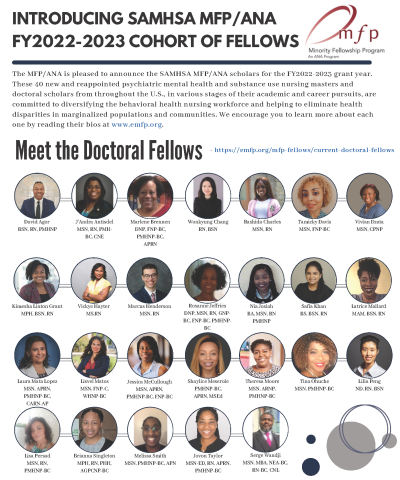 Introducing FY2022-2023 Doctoral Fellows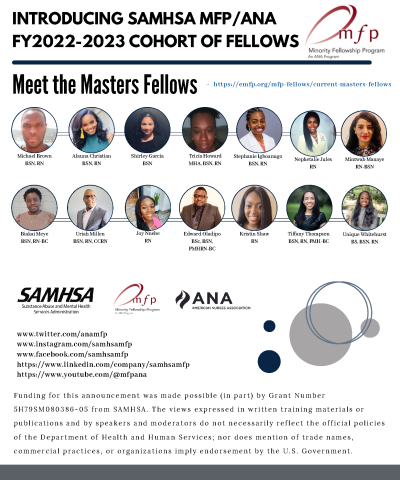 Introducing FY2022-2023 Masters Fellows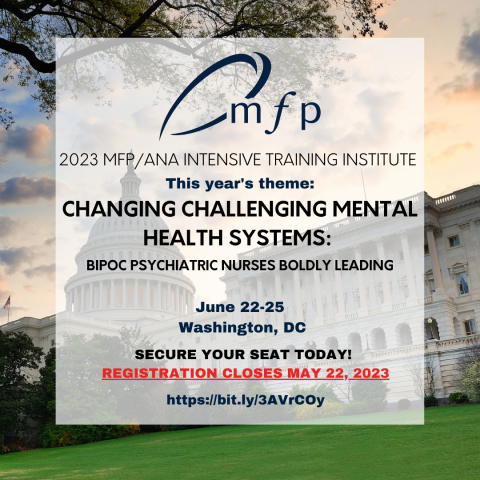 Registration for the 2023 Summer Intensive Training Institute closes May 22. Register to secure your seat today.
The Substance Abuse and Mental Health Services Administration (SAMHSA) Minority Fellowship Program (MFP) at the American Nurses Association (ANA) and other Psychiatric Nurses and Behavioral Health Professionals will convene our 2023 Summer Intensive Training Institute (2023SITI), Thursday, June 22 to Sunday, June 25, 2023 in Washington, DC. We expect to bring together more than 70 participants including the MFP doctoral and masters' scholars, National Advisory Committee members, alumni, members of local minority and indigenous communities, students and faculty, nursing organizations and friends of the MFP/ANA.
Conference Forms and Links
Registration:
Registration Form is now Closed
Hashtag: #MFPITI
Know Before You Go: (opens new window)Important 2023 MFP/ANA Intensive Summer Institute Badge Pickup, Hotel, & Safety Details
MFP/ANA Summer ITI Policies (opens new window)
Airport Taxi, Shuttle and Other Transportation Available (Link Forthcoming)
Coronavirus (COVID-19) Update
COVID Policy Statement (opens new window)
12 Steps to Sanitizing Your Hotel Room (opens new window)
Illustrated Explanation of the Virus and Precautions (opens new window)
CDC's Situation Summary on Coronavirus (COVID-19) (opens new window)
Frequently Asked Questions:
Answers to ITI frequently asked questions (opens new window)
CNE Information:
Participants will enhance their skills and knowledge regarding the mental health needs of racial and ethnic minority populations to be able to apply to their everyday practice, leadership, academia, research, and behavioral health advocacy. Additionally, participants can earn 20.5 CNE contact hours upon successful completion of CNE requirements.
ACCREDITATION STATEMENT
The American Nurses Association is accredited as a provider of nursing continuing professional development by the American Nurses Credentialing Center's Commission on Accreditation.
ANA is approved by the California Board of Registered nursing, Provider Number CEP17219.
CNE Evaluation Survey Link (opens on June 25, 2023 and closes Friday, July 31, 2023): https://surveys.nursingworld.org/s3/2023-ANA-MFP-Intensive-Training-Institute (opens new window)
Steps for Expense Reimbursement
Watch Reimbursement Tutorial: https://www.loom.com/share/f1fedd23dd8b4584ad4974cbc3ed093a?sid=86c69631-6313-46be-8fe8-2d72d29f4aaa

(opens new window)

Complete expense reimbursement form(link to download

(opens new window)

)
Email expense receipts to mfp@ana.org using the naming format: Name of Expense_Date (i.e. Uber_6_22).