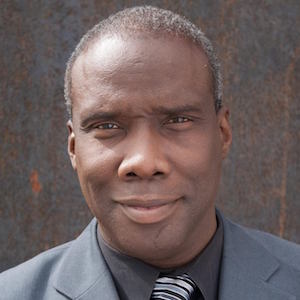 There are more than 300 MFP alumni throughout the nation that provide culturally competent and linguistically appropriate direct care. The MFP alumni also educate, perform research, healthcare services and health policy in urban and rural clinical settings, community and outreach programs, and academia with the intent of eliminating mental health and substance use disparities and enhancing well-being among all people, including ethnic minority populations. Each month the MFP will showcase one alumnus' amazing nursing journey and how their MFP experience helped them pursue their dream.

Featured Alumni
Austin Nation, PhD, MSN, PHN, RN
Assistant Professor
California State University, Fullerton
Assistant Professor
California State University, Fullerton
1. Dr. Nation, you worked with HIV patients at a hospital in Los Angeles when the disease first became an epidemic, describe that experience.
Yes, I will never forget those days. I was working as a Nursing Supervisor and part of my job was to secure staffing for each unit of the hospital. I remember how hard it was to find nurses, even temporary agency nurses, who were willing to work on the AIDS Unit. Every other unit I could get coverage except this one. Even the nurses in the hospital didn't want to float up to that unit to help out. It was a difficult and devastating time for many of the young men who had contracted the disease and who would die in our hospital. Some of them got really confused and wouldn't even recognize their own loved ones and others would just literally waste away right before our eyes. I even had a hard time getting the mortuaries to come and pick up our patients after they expired. It was a time of great fear from everyone and no one wanted to get this disease by doing their job.
2. Tell us about your work in the arts to educate the public about HIV and reducing stigma.
The play, "We're All God's Children", was an effort to reach at-risk individuals in the Black community and was performed at churches, community groups, Juneteenth Festivals...anywhere we could get an audience. The play is a 20 minute production that examines the ongoing struggle and controversial relationship between The Church and People Living with HIV/AIDS. In three acts, the play compares the responses by the church when dealing with a person with cancer, a married man who tests HIV positive after sleeping around with both men and women and in the third act, the innocent woman whose husband, from Act 2, infected her with the HIV virus.
In this era, with religious institutions wanting to move towards being proactive in the fight against this deadly virus, it is important to look at the church's values and belief system. How can we reach out to a population that is not only infected with HIV/AIDS, but may also be of a different sexual orientation and the innocent women that are now also becoming infected? How then can these two communities, churches and people living with HIV, come together without prejudice, condemnation, judgment—or the need to convert anyone? The goal should always be to love one another as Jesus commanded us to do; we do this by caring for the sick, the wounded, the lost, the lonely and the needy, no matter what the circumstances are surrounding their situation. Ask yourself, "What would Jesus do?" Despite all of our differences, trials and tribulations, we are all God's children, His precious creation and He loves us all the same.
3. Describe your role in starting the MFP Alumni Facebook Workgroup.
I loved my experience with the MFP!!!  There was so much love, support, and guidance to help me finish my PhD. It felt like the best family ever. I honestly could not have successfully completed my program without the MFP.  It was truly a lifesaver.  I started the MFP Alumni Group immediately after I graduated because I want to give something back to this incredible program. I also want to have a way to stay connected with my fellow MFP alumni colleagues who are spread across the country.
This group is a wonderful way for us to stay involved and connected. Now that we have graduated, the alumni group will be an avenue for us to collaborate on future research projects and assist one another in transitioning to our new role either as a post-doc or university faculty member. We have also been discussing how to create Writing Groups to keep us moving with our manuscript writing. I've been amazed by the support of all the alums to make this group happen and I am really looking forward to seeing many of them in June at the MFP-ANA Conference & Institute.
4. Tell us about returning to your alma mater, California State University, Fullerton, as an assistant professor and your current research.
It has been wonderful returning to my alma mater. I completed the RN to BSN program in 2009 and my master's in nursing administration in 2011. It was an amazing learning environment to be in as a student and I wanted to be a part of this in my first faculty role. This is the job I dreamed of doing and it was always my desire to come back home to Fullerton after I finished my PhD. I feel like the transition from student to faculty has been effortless. Everyone has been incredibly supportive and wanting me to succeed.
My research interest is in understanding HIV and substance use among young Black men who have sex with men (MSM).  Black young adults between the ages of 13-25 are one of the largest populations of people being diagnosed with new infections of HIV/AIDS. The prevalence of HIV among young Black MSM is three to four times higher than their white MSM counterparts. Young Black MSM are run-aways and homeless, forcing them to survive on the streets by becoming sex workers, engaging in unprotected anal intercourse because either they or their partner is high or under-the-influence of drugs or alcohol. Studies cite crack cocaine use, sex while high on crack cocaine, marijuana and alcohol, or sharing needles for injection drugs as strongly associated with HIV infection among young Black MSM. It is often difficult for these young adults to negotiate safer sex practices with their partners, including discussion of their HIV-positive status. As a HIV educator and researcher, I am very interested in understanding substance use behavior with this young population and discovering new ways to have an impact in reducing this health disparity.