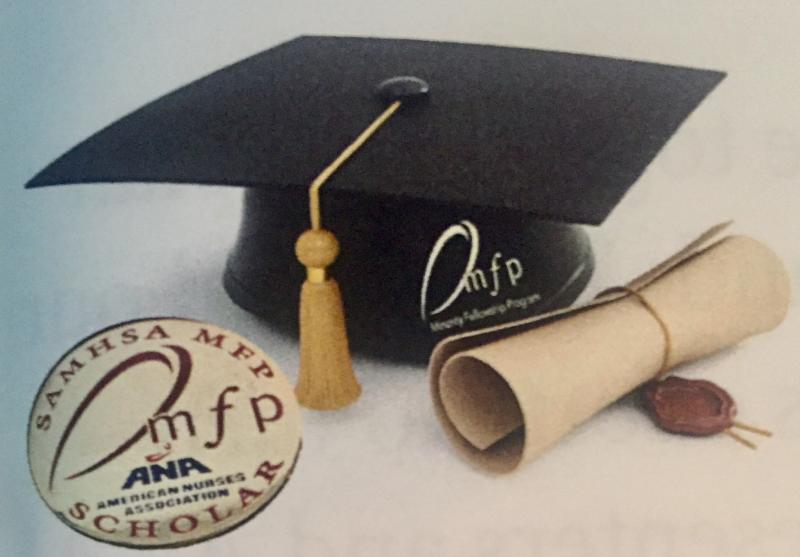 MFP/ANA GRADUATION CEREMONY
The SAMHSA MFP/ANA inaugural graduation ceremony launched during the 2008 Intensive Training Institute held in collaboration with the National Black Nurses Association (NBNA) Conference and Institute, August 1-4, 2008, in Las Vegas, Nevada. Guest speaker Dr. May Wykle, Dean, Frances Payne Bolton School of Nursing, Case Western Reserve University delivered words of encouragement to the nine PhD c'08 graduates. The ceremony celebrates the Fellows academic achievements, determination, and commitment to obtain their goals of excellence in mental health and/or substance use research, practice, education, health advocacy and policy development. The MFP/ANA values the intellectual capabilities of each Fellow and provides a strong foundation of support, based on their input, to include individual mentoring, academic support, one-on-one dissertation coaching, education and financial enhancements, work-life-balance instruction informed by the MFP/ANA Training Model which prepares graduates to contribute to eliminating health disparities and ensuring health equity for diverse populations.
The graduation ceremony is also a symbolic reminder of all the milestones reached and challenges met by each Fellow throughout their MFP/ANA educational journey. During the ceremony, each graduate is presented with an MFP/ANA Certificate of Completion. PhD graduates are also presented a SAMHSA MFP/ANA Scholar's Pin, tangible reminders of their MFP/ANA PhD journey with the support of SAMHSA MFP/ANA. After 2021, the scholar's pin will be discontinued.
All SAMHSA MFP/ANA graduates are eligible and encouraged to continue their participation in the Alumni Group, formally established in 2021 as a 501c3 non-profit organization under the name of Psychiatric Mental Health Nursing, Minority Fellowship Graduate Association (MFGA).
MFP/ANA AWARDS
​​​​​​MFP/ANA Faye A. Gary, EdD, RN, FAAN Leadership Award, established in 2019, is presented to an MFP/ANA Fellow or alumni for excellence in leadership as a tribute to Dr. Faye Gary's leadership of the SAMHSA Minority Fellowship Program (MFP) at the American Nurses Association (ANA) from 2003-2015. Dr. Gary served as the Chair of the MFP/ANA National Advisory Committee before being named as the Executive Academic Consultant. For more than a decade she worked tirelessly and relentlessly implementing new and novel approaches to educate the MFP doctoral Fellows, diversify the behavioral health nursing workforce and advance the health and well-being for all people. During her leadership, the MFP/ANA Fellows were offered a "Virtual University" that provided additional opportunities for knowledge and skills training that enabled them to fulfill doctoral degree program requirements, learn about career paths and opportunities, make sound choices and work toward assuming leadership positions in the field of behavioral health nursing. The MFP graduation rate was nearly 100 percent with 45 Fellows graduating during Dr. Gary's leadership of the SAMHSA MFP/ANA. With the expansion of technology, the MFP/ANA has fine-tuned and renamed the "Virtual University Training Model," but its core knowledge and skills acquisition training continues to be an essential support to the current ethnic/racial minority nursing students enrolled in graduate programs supported by the MFP/ANA and helps them to successfully navigate the demands of completing their graduate education and transition into careers of leadership in behavioral health nursing.
2019 Inaugural Recipients
Naomi Chan, MSN, RN
Audrey Strock, DNP, MSN, RN
The MFP/ANA Dr. Hattie Bessent, EdD, RN, FAAN Research Award established in 2019 are presented to Fellows and alumni focused on behavioral health cutting-edge research as a tribute to Dr. Hattie Bessent, the Director of the Ethnic Minority Fellowship Program (EMFP) at the American Nurses Association for 15 years (1977-1992). During her tenure, the EMFP, as it was initially named at ANA, focused on diversifying Nursing's mental health workforce specifically at the PhD level. Dr. Bessent reached across disciplinary lines and obtained funding for additional leadership training opportunities, one of which included the popular Legislative Internship Program. Her legacy has been described "as a total commitment to the EMFP, nurturing it day by day and investing her time and energy in each Fellow, whom she envisioned as dynamic professionals, making unique contributions to the nursing profession in mental health and humanity." Indeed, many ethnic/racial minority nurses pursuing their doctoral degrees flourished under Dr. Bessent's leadership, and under her mentorship and coaching to become local, state, national and international leaders in mental health research, clinical practice, policy development, health care systems administration and education in the nursing profession.
2019 Inaugural Recipients
Griselle Estrada, MSN, RN
Cynthia Greywolf, PhD, DNP, PMHNP-BC, APRN
Marie Smith-East: PhD, PMHNP-BC, MSN, MS, EMT-B
MFP/ANA Outstanding Alumni Award established in 2017 is the highest honor presented to the SAMHSA MFP/ANA Alumni. The Award recognizes an alumnus who has distinguished themselves in the nursing workforce or made a lasting impact on the MFP/ANA through outstanding professional achievements, distinguished leadership, service to the community, philanthropic or volunteer accomplishments. Awardees must demonstrate a commitment to supporting the mission and goals of the MFP/ANA by mentoring current Fellows, serving on the MFP/ANA National Advisory Committee, recruiting prospective applicants, serving on the Intensive Training Institutes planning committee or speaker or other approaches to giving back to the MFP/ANA or the behavioral health nursing workforce.
Past Outstanding Alumni Recipients
2017
John Lowe, PhD, RN, FAAN recognized as the Founder and Executive Director of the Center for Indigenous Nursing Research for Health Equity (INRHE) at Florida State University, the first Indigenous nurse led Center worldwide.
2018
Freida H. Outlaw, PhD, RN, APRN, FAAN recognized for her excellence in clinical practice and work to improve the mental health of children and their families.
2019
Austin Nation, PhD, RN, PHN recognized for his leadership in establishing the MFP/ANA Alumni Facebook working Group in 2016, a community of more than 75 alumni members. During his two-term tenure as president, Dr. Nation established an executive board, Bylaws, an alumni educational offering during the Intensive Training Institutes, hosted in-person receptions at selected minority nurse organization conferences, inspired more alumni "ambassadors" for MFP/ANA recruitment and organized monthly alumni meetings.
MFP/ANA Dr. Freida H. Outlaw Mentor Award, established in 2020 as a tribute to Dr. Freida Outlaw, who was selected as the MFP/ANA Executive Academic Consultant in 2015. During her tenure, Dr. Outlaw has worked with the National Advisory Committee Mentoring Workgroup, with significant contributions from MFP Alumna Dr. Jillian Inouye, to develop a formal mentoring program. The program launched in 2017 with a copyrighted Mentoring Manual during the MFP/ANA Conference and Institute in Silver Spring, MD. The Mentor Award recognizes an MFP/ANA mentor who has provided opportunities for their assigned MFP/ANA mentee which led to their mentee's significant contributions to nursing science and deemed as excellence in mentoring.​​​​​​
2020 Inaugural Recipient
Giovanna De Oliveira, PhD, RN, ANP-C, PMHNP-BC for the collaborative opportunities she provided her mentee, Florida Atlantic University PhD Fellow, Angel Johann Solorzano Martinez that led to co-authored published manuscripts in refereed journals, international podium presentations, research assistant on a grant and more.​​​​​