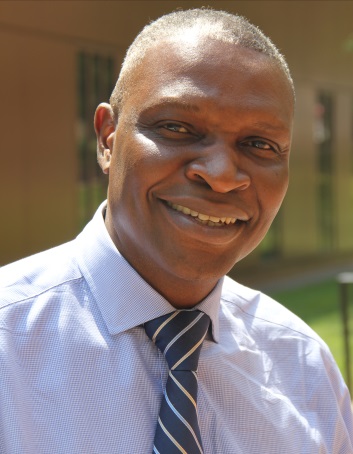 There are more than 300 MFP alumni throughout the nation that provide culturally competent and linguistically appropriate direct care. The MFP alumni also educate, conduct research, provide healthcare services and develop health policy in urban and rural clinical settings, community and outreach programs, and academia with the intent of eliminating mental health and substance use disparities and enhancing well-being among all people, including ethnic minority populations. Each month the MFP will showcase one alumnus' amazing nursing journey and how their MFP experience helped them pursue their dream.
Featured Alumnus of the Minority Fellowship Program-Youth
Dr. Cheedy JaJa, Ph.D., MPH, MN, RN
Associate Professor and Health Research Scientist 
University of Cincinnati College of Nursing
Dr. Jaja is currently leading a collaborative Sickle Cell Disease (SCD) pilot research project in Sierra Leone, a country currently rebuilding its healthcare infrastructure decimated by a recent Ebola epidemic.
Question: Tell us about your work with regard to providing mental health care to minority communities in the US and how the Minority Fellows Program has contributed to that work?
Jaja: My mental health clinical work with regards to minority communities is best understood within the context of my pharmacogenetics clinical research program with patients with sickle cell disease.
Sickle cell disease (SCD) is a painful, chronic, life-long genetic condition that affects largely people of African descent.
Pharmacogenetics is the study of how we can use genetic information to determine personalized medication prescription for patients as unique individuals.
In many large urban hospitals, some patients whose sickle cell pain experience warrant frequent ED visits and hospital admissions are readily labeled as "drug seeker" or "addicts." [This] often leads to withholding of adequate analgesic pain therapy with opioid medications. Within this backdrop of well-known, documented disparities in the management of pain in general, SCD patients represent a vulnerable and underserved segment of the minority population suffering from a debilitating disease, stigmatization, health disparities and discrimination with added profound psychosocial and mental health burdens to these patients.
My pharmacogenetics research program focuses on using SCD patients' genetic information to manage disease complications, both the physical and psychosocial complications, with a precision medicine approach to optimize disease management.
Participation in the MFP program enabled me to complete the nurse practitioner program (MSN) in psych and mental health at Indiana University. More importantly, this training enabled me to add a psychosocial and psychopharmacotherapy component to my research program.
Question: Two years ago you returned home to Sierra Leone to contribute to the Ebola epidemic response. Tell us about that experience?
Jaja: In 2014, Sierra Leone was severely afflicted by an epidemic of Ebola virus disease. It was the largest ever outbreak of Ebola in the world. At the peak of the epidemic, there were 450 cases a week recorded in Sierra Leone. The country had not recovered from the ruination of its healthcare infrastructure caused by a decade-long civil war when Ebola struck the country. With a population of approximately 6 million people, there are about two nurses for every 10,000 people—50 times less than the ratio in the United State, and less than 300 trained doctors nationally. Thus at the time of the Ebola outbreak, the health situation in Sierra Leone was awful.
In addition to being a research scientist, I am a nurse practitioner. Nurses have proven track records of involvement, commitment, and leadership in times of disasters. We migrate to the scene of a disaster while everybody is fleeing. Duty is what compels us to do so, especially in those circumstances in which common sense urges caution. The willingness to be of service to vulnerable individuals is a core MFP value. The MFP group workshop and retreats are designed to provide appropriate learning tools, skills and techniques. But there is also greater emphasis on fostering passion to provide clinically appropriate healthcare services to medically underserved and vulnerable populations.
When I arrived in Sierra Leone on December 20, 2014 with a cohort of volunteer clinicians deployed by the Boston based NGO, Partners in Health, the country still lacked nurses, supplies, and even beds for Ebola patients. On the morning of December 25, 2014, I started treating Ebola patients in an Ebola Treatment Unit (ETU or Ebola hospital) in a town called Port Loko that was then the epicenter of the epidemic. I served for six weeks, working ten hour shifts, six days a week. But it would all end so suddenly and I would go from purposefully saving lives to the shame, nothingness and isolation of quarantine at home in the USA and the sudden onset of psychological trauma.
Question: You have remained engaged with Sierra Leone - can you tell us about your post Ebola initiatives and how they contribute to your work as an educator of nurses? Are there synergies with efforts to improve mental health care outcomes for disadvantaged communities, particularly for children, adolescents and youth in transition into adulthood?
Jaja: My experience reinforced my commitment to global health service in two important ways. First, seeing first-hand the plight of children orphaned by Ebola helped birth in me a desire to help these destitute kids. Upon my return to the USA I partnered with Develop Africa, a US 501c3 nonprofit organization operated by a childhood friend, Dr. Sylvester Renner to establish an orphanage in Freetown called the Dream Home (www.thedreamhome.net). In May of 2015, we took in 23 kids who lost both parents to Ebola. Some of the orphans at this orphanage were Ebola-positive, admitted to an Ebola Treatment Unit and survived. As clinical director of the Dream Home, I assist with a range of tasks with the goal of ensuring that the kids are well taken care of in all aspects- medically, psychologically and physically.
My relationship with the Dream Home has also created opportunity for global teaching and learning for my nursing students. The orphanage is now a clinical site for University of Cincinnati students. Some of my students have designed psych and mental health assessment exercises to assess the children psychosocial wellbeing via video and teleconferencing. They also developed an online database to upload secured folders containing each child's basic health assessment data that future student cohorts will update regularly and provide supportive care as appropriate as part of their global health training. In subsequent semesters, we anticipate adding a study abroad component to that would involve travel to Sierra Leone for experiential learning in global health mission, with focus on the aftermath of complex humanitarian emergencies.
I have [also] extended my SCD clinical research program to Sierra Leone. It is estimated that 305,800 babies are born worldwide annually with SCD (SCD-SS), with nearly 75% of the births occurring in sub-Saharan African countries. Despite this high incidence, life-saving public health programs have not been implemented in most sub-Saharan African countries, often due to limited health care resources and infrastructures. As a consequence, neonatal and childhood mortality due to sickle cell related complications remains high, and estimates suggest that without intervention, up to 90% of affected children in these African countries will die by five years of age from SCD. With funding from the University of Cincinnati, and partnership with a USA based federally qualified healthcare center, Jericho Road Community Health Center (http://www.jrchc.org/) and a local patients' advocacy group SCCAN(http://www.who.int/workforcealliance/members_partners/member_list/sccan/en/), we have been able to establish a specialty clinic for an initial cohort of 120 children with sickle cell disease who will present monthly for wellness visits that included comprehensive mental health assessment. We envisage this pilot wellness program to serve as a blueprint of how care for SCD patients could be provided in resource limited communities.